Ergonomic Assessment and Workflow Tool
At e-work.com, we are focused on helping you manage your ergonomic risk, reduce cost, and improve the health of your employees.  We recognize that some low-risk users simply need to complete an assessment and possibly implement a few recommendations, other medium risk users may need a low-cost piece of new equipment such as a specialized keyboard or mouse, while other higher risk individuals may need to meet with an ergonomic consultant and get a formal report and recommendations. People in all these groups will enjoy and benefit from reviewing personalized training based on their individual assessment results!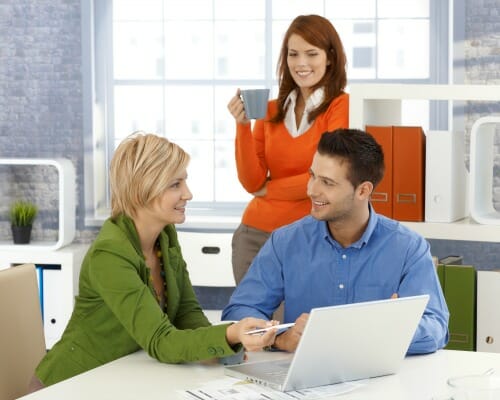 Reduce risk, minimize cost . . .
   and create a healthier workplace
ErgoTrac Pro avoids the one-size fits all nightmare by allowing you to assess all employees (or any subset you prefer) and deliver the right solution to the right person. This can help you avoid wasting precious resources, while also addressing issues before they become injuries.  This holistic approach allows you to evaluate and manage risk across the organization in an appropriate and responsible way.

Features and Benefits
The ErgoTrac Pro System is flexible, is easily customizable, and is scalable across the entire organization. The consultants reporting work-flow can easily be adopted and used by your internal ergo consultants, third party consultants, or consultants we can recommend, create, review, and deliver detailed reports to identified individuals. The system also allows you to create and deploy unique assessments for different organizations, different job types, or other factors.
Ergo Trac Pro . . . A Comprehensive System that Includes:
Employee Assessment and Portal

An engaging and easy to use assessment
Interactive body diagram for discomfort analysis
Ability to upload workstation photos for review
Workspace needs and preference analysis
Recommendations via an employee portal
Personalized training based on assessment results
Integrated communications, tracking and reminders
Consultant and Admin Processes
Consultant report and work-flow process
Workspace design tool for creating layouts
Customizable questions and risk scoring
Tracking of equipment recommendations and cost
Robust reporting and QuickView Dashboard
System management of roles and permissions
System Admin Management Portal
ErgoTrac Pro . . . An Effective System That Improves Outcomes:
Identify problems before they become major issues
Deal with major issues before they become serious injuries
Provide the right solution for each person to avoid resourse waste
Provide training on best practices to prevent problems
Inspire a knowledge-based and healthy approach to ergonomics
Eliminate errors and inefficiency of paper based processes
Improve decision making with better information and analysis